Our History
North Eaton Christian Church has a long history in Eaton Township. It was birthed as part of the faithful rebellion and frontier movement of Scotts-Irish Presbyterian immigrants Thomas and Alexander Campbell (father and son) who were grieved that different denominations and religious sects prohibited one another from observing The Lord's Supper together. They believed that Christ's table—with its sacrament of remembering Jesus by consuming wine (juice) and bread—should be available to everyone, in observance together. Evangelist Walter Scott left his Baptist roots and preached the cause of this new religious group, the "Disciples of Christ".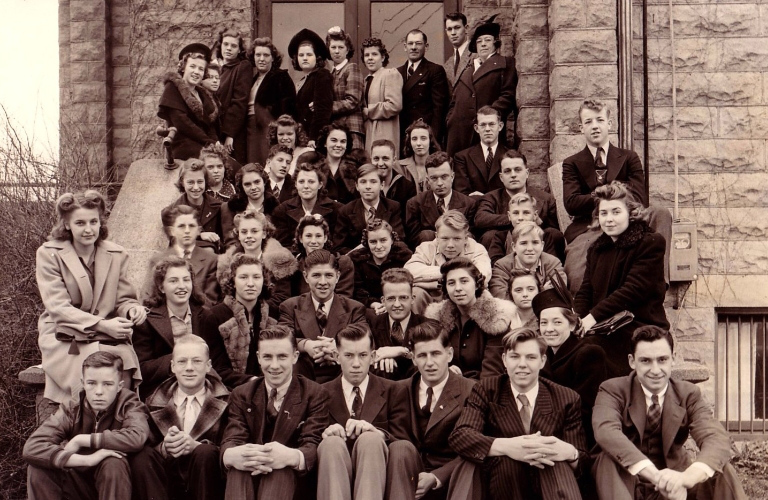 Barton W. Stone, of Kentucky, was another Presbyterian who believed in the religious Restoration Movement dedicated to unifying all Christians in a single body, and patterned after the church of the New Testament. He rejected the idea of creeds and other "tests of belief", believing them to be tools of separation between believers. He called his group "Christians".
In 1832, the trio of "Disciples" from Western Pennsylvania united with Stone's "Christians" in Lexington, KY, forming the "Christian Church (Disciples of Christ)".
North Eaton Christian Church began in 1837 when Chloe Wilmot Tucker began campaigning for spiritual teaching in this developing corner of the Connecticut Western Reserve. At that time, she and a small handful of residents were holding "house church" in her home on Butternut Ridge and others on Durkee Road. Before too long, itinerant preacher Miran Streator (Portage County)—part of this new Disciples group—came to the Butternut Ridge schoolhouse and baptized members of that house church, including Chloe's two sons, Reuben and William Tucker. Another convert to this new church was Lathrop Cooley who was eventually instrumental in the church's official founding. (A fountain in his honor can be found on Medina's town square.) The "Disciples of Eaton" was incorporated on October 15, 1842 with just over 20 members.
By 1843, the church moved to the Eaton Township center and built its first building (a log cabin) in 1845. Early baptisms were done in the Black River on the Pounds Farm, in LaPorte. Within the next few years, the Eaton Ladies Aid Society grew out of the initial Ladies Mite Society of Lorain County, and that group eventually spawned several smaller charitable women's groups.
The church's physical structure has undergone many changes since its original establishment, including two fires near the start of the 20th century, and subsequent rebuilding after each. The latest expansion occurred in 1996 with new classrooms, office space, and a new sanctuary. The entire complex received a new roof and interior renovations in early 2021, with additional improvements to the building and grounds planned, in stages, for the future.
But a church building is not "the Church". Rather, it houses the worship, education and faith-development, healing, celebration, and outreach of the people who are instruments of God's love into the wider community and beyond. And you'll find out more about that by visiting other portions of this website!
Learn more: www.discipleshistory.org

Would you like to memorialize a loved one? Approximately 1200 memorial bricks form a Celtic cross in our Memorial Garden (courtyard). On them, the engraved names of departed friends and family members are a permanent reminder of our heritage and the love which binds us together. Bricks may be purchased at a minimum donation of $250 each, with proceeds benefiting an endowment fund for the maintenance of the building and grounds. We are grateful for these contributions as a way to honor and memorialize loved ones while providing for the future care of NECC's physical facilities. Contact the Pastor to learn more.